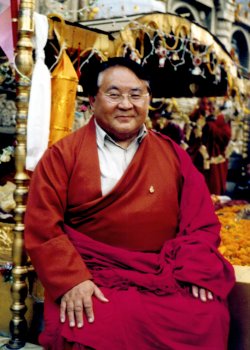 Inspired by the vision of Sogyal Rinpoche and the achievements of great centres of buddhist learning from the past, such as Nalanda in India, Shri Singha shedra at Dzogchen Monastery, Kham-jé at Dzongsar and more recently, Larung Gar, established by the great Khen Rinpoche Jikmé Phuntsok, the Rigpa Shedra seeks to provide a thorough and comprehensive Dharma education of the very highest standards. The approach is traditional, based on the proven methods of the unbroken lineage of learning and realization that dates back to ancient India, and encourages not just formal study, but also deeper integration of the teachings through contemplation and meditation.
[youtube RVYMQLwiTGE]
This information video produced during Rigpa Shedra 2006/2007 gives additional information about the Rigpa Shedra vision.
The curriculum is designed with a view to supporting the needs of the wider Rigpa Sangha, complementing the teachings of Sogyal Rinpoche and also the courses offered in Rigpa centres throughout the world. It is entirely non-sectarian, and features the most important writings of the great Indian and Tibetan masters, including works on both sutra and tantra. The teachers providing commentary on these texts are highly qualified khenpos and acharyas. Additional teachings and guidance are also sought from many of the lamas connected with the Rigpa sangha. In addition to studying the most important classical writings, students have the option to study the Tibetan language.