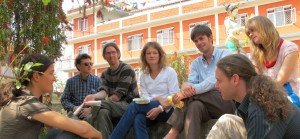 We invite all Rigpa students to attend the 2015 Rigpa Shedra East in Pharping, Nepal, for a period of in-depth study under the guidance of Khenchen Namdrol Rinpoche. We will be offering three levels of studies, covering both Mahayana and Vajrayana teachings.
The Shedra is open to all students, whether interested in following the complete curriculum, or wishing to join for only one year to boost their study and practice.
New students will have the chance to immerse themselves in the study of the Bodhicharyavatara, Shantideva's outstanding treatise on entering the Bodhisattva's way of life.
Intermediate level students will be able to further their studies with Maitreya's Uttaratantra Shastra.
Advanced students will have the opportunity to study the Guhyagarbha Tantra, one of the most important tantras studied in the Nyingma tradition. This class is open to students who have followed the Three-year-retreat, Dzogchen Mandala students who participated in the 2-month-retreat, as well as students that have already completed several years of sutra studies at the Rigpa Shedra.
Khenchen Namdrol Rinpoche will also be available to answer questions of students on a regular basis over 4 months.
New Option

:

A Summary of Tenet System's by Mipham Rinpoche

In this short 1-month option we will aim to offer students a taste of shedra, by going through the four Buddhist philosophical schools, up to the Madhyamika school. We will explore in depth the solidity of our perception of reality and refine our understanding of emptiness in order to strengthen the foundation for the View which is indispensable for the path.
In this text, Mipham Rinpoche summarizes the view, conduct and results of both Buddhist and Non-Buddhist tenet systems. The text is comprehensive in introducing the key aspects of the four Buddhist tenet systems and and the nine yanas. It covers Madyamika reasonings and the views of the outer and inner tantras.
Bodhicharyavatara
This is open to all students, and is especially intended for students coming to the shedra for the first time.
To study the Bodhicharyavatara we will use the commentary of the great Tibetan master Khenpo Shenga. Countless great masters have praised the value of studying and taking to heart Shantideva's practical and profound teaching.
His Holiness the Dalai Lama once said:
"If I have any understanding of compassion and the bodhisattva path, it is entirely on the basis of studying the Bodhicharyavatara that I possess it."
And Sogyal Rinpoche said:
"The Bodhicharyavatara shows us how to educate ourselves dharmically and transform our basic character. It is called 'Entering the Bodhisattva Way of Life' because it offers us an entire culture, a whole way of life and being, which is completely different from the ordinary samsaric culture that we're used to living in. When you really take these teachings to heart, they make you into a perfect human being—a true bodhisattva."
Uttaratantra Shastra
The Mahayana Uttaratantra Shastra is one of  the Five Treatises said to have been dictated to Asanga by the Bodhisattva Maitreya. It presents the Buddha's definitive teachings on how we should understand buddha nature, the ground of enlightenment, and it clarifies the nature and qualities of buddhahood. This seminal text builds a bridge between the Sutrayana and Vajrayana levels of Buddha's teaching. It is included among the so-called "Thirteen great texts", which form the core of the curriculum in most shedras.
We will be studying using the commentary of Jamgön Mipham Rinpoche, who was an extremely learned Tibetan master of the early 20th century, an example of extensive erudition and profound realization. He was also an accomplished Dharma teacher who revitalized the teachings of the Nyingma tradition.
The Uttaratantra Shastra is usually the last sutrayana text studied in the main Nyingma Shedras before entering the tantrayana studies.
According to Khenchen Namdrol's advice, we will offer this course in combination with one month of retreat.
All student who have already attended one year at the Rigpa Shedra East are invited to join this class, as well as students of the Three Year Retreat who have already studied the Bodhicharyavatara.
Guhyagarbha Tantra
The Guhyagarbha Tantra or The Essence of Secrets Tantra is the main tantra of the Mahayoga, one of the three inner vehicles of tantra according to the unique and extraordinary presentation of the Nyingma School. For centuries, detailed study of its root verses and many celebrated commentaries by great masters such as Longchen Rabjam, Dodrupchen Jikmé Tenpa Nyima and Jamgön Mipham Rinpoche has been the key to understanding the Vajrayana's most prominent themes and practices, such as empowerment, samaya, mantra recitation and the use of mandalas. Study of the Guhyagarbha Tantra provides a foundation for understanding the unique view and approach of the inner tantras including Dzogchen Atiyoga, the summit of all vehicles.
At the conclusion of the Vajrayana studies, students will have an exceptional opportunity to actualize these teachings by entering into a month of retreat. On many occasions Khenchen Namdrol has emphasized the tremendous benefit of practicing in such a sacred and holy environment as Pharping, known to Tibetans Yangleshö—the place where Guru Rinpoche himself practised and attained the realization of Mahamudra Vidyadhara.
Vajrayana studies are open to all senior students of the shedra who already have a good basis in sutrayana studies, as well as all students who have followed the Three-year-retreat and Dzogchen Mandala students who participated in the 2-month-retreat.
Tibetan classes
The Rigpa Shedra East also offers all students the opportunity to learn Tibetan. Tibetan classes on several levels, from absolute beginners to translators in the making, are part of the shedra's daily schedule.
Practical Information
Dates & Prices
Sutrayana Studies:
1) Bodhicharyavatara – January 4th to April 30th 2015
Fees 1440€, food 480€, accommodation 420€.
2a) Three month option: Uttaratantra Shastra – January 4th to March 31st 2015
Fees 1080€, food 360€, accommodation 315€.
2b) Four month option: Uttaratantra Shastra and personal retreat – January 4th to April 30th 2015
Fees 1220€, food 480€, accommodation 420€.
Vajrayana Studies
1a) Three month option: Guhyagarbha Tantra – January 4th to March 31st 2015
Fees 1080€, food 360€, accommodation 315€.
1b) Four month option: Guhyagarbha Tantra and personal retreat – January 4th to April 30th 2015
Fees 1220€, food 480€, accommodation 420€.
Additionally you can roughly plan the following expenses:
Flight:

between 600€ and 1100€, depending on timely booking, distance & airline
Visa for four months:

105€. 100$ for the first 90 days visa to be imperatively done at the airport when you first arrive. After the first 90 days, each 30 days extensions costs 60$
Mandatory Insurance

: up to 350€, see medical disclaimer
Extras:

between 250€ and 1000€, depending on your life style. This includes 150€ for Tsok and other offerings.
Languages
The main class each day will be held in Tibetan and will be translated live into English. All other classes and activities are held in English.
Medical Disclaimer
The Rigpa Shedra cannot be held responsible for any loss, theft or damage to personal property or bodily injury or death during the period of the Rigpa Shedra East. We cannot provide medical or psychological care, medication, hospitalization or transportation. Please ensure that you are adequately covered. Proof of medical insurance is required to attend the Shedra East program. There are neither medical staff nor medical facilities on-site. The Shedra East is a place for studying Tibetan Buddhist teachings which are not intended as a substitute for psychotherapy. If you have a psychological or psychiatric problem, we recommend that you inform your therapist before coming, and you need to notify us prior to your registration. If you are taking medication prescribed by your doctor, do not discontinue it during your stay. If you disregard this advice we regret that The Rigpa Shedra cannot be held responsible.
Behaviour
Traditionally a shedra takes place in a monastic environment where a strict set of rules is implemented, permeating all levels of everyday life (for an example of these rules please visit the Ngagyur Nyingma Institute website). Khen Rinpoche Namdrol and other masters have advised to apply similar sets of rules to the Rigpa Shedra East since it is a proven fact that these are a great support for one's study. It is not easy to transfer a system of rules designed for a Tibetan monastic environment to a group of western students, nevertheless a frame of rules will be proposed to the shedra students so that they will be able to make the best of their precious time.