Winter 2015 Shedra East
The Rigpa Shedra East 2015 will be hosted as usual by the Nyingma Palyul Retreat Centre in Pharping, Kathmandu Valley, Nepal from the 4th of January 2015 to the 30th of April 2015.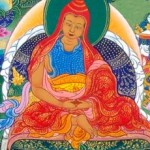 For the third time we will offer three levels of studies, with teachings on the Bodhicharyavatara,  the Uttaratantra Shastra and the Guhyagarbha Tantra. The programme will include Tibetan language courses on multiple levels.
New 1-Month-Option

: A Summary of Tenet System's by Mipham Rinpoche

In this short 1-month option from 1 – 30 March, we will aim to offer students a taste of shedra, by going through the four Buddhist philosophical schools, up to the Madhyamika school. We will explore in depth the solidity of our perception of reality and refine our understanding of emptiness in order to strengthen the foundation for the View which is indispensable for the path.
In this text, Mipham Rinpoche summarizes the view, conduct and results of both Buddhist and Non-Buddhist tenet systems. The text is comprehensive in introducing the key aspects of the four Buddhist tenet systems and and the nine yanas. It covers Madyamika reasonings and the views of the outer and inner tantras.

For more information please click here.