The Rigpa Shedra East 2016 will be hosted as usual by the Nyingma Palyul Retreat Centre in Pharping, Kathmandu Valley, Nepal from 3 January  to 2 April 2016, with three classes on different texts.
New students will have the chance to immerse themselves in the study of the Bodhicharyavatara, Shantideva's outstanding treatise on entering the Bodhisattva's way of life.
Intermediate level students will be able to further their studies and understanding of emptiness with Chandrakirti's Madhyamakavatara, the Introduction to the Middle Way.
Advanced students will have the opportunity to study the Vajrayana chapter of the Yönten Dzö—The Treasury of Precious Qualities, the famous treatise by Jikmé Lingpa.
For More information please click here.
Bodhicharyavatara Online Course
2016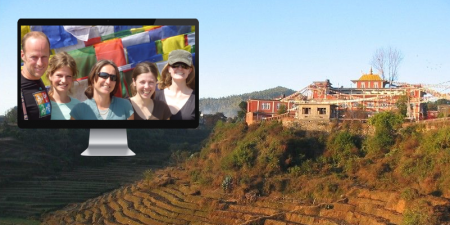 Connect online with the Rigpa Shedra and let the wisdom and compassion of Shantideva pervade your mind and transform your day wherever you are!
For the first time, we offer Rigpa Mandala students the possibility to connect to what is happening at the Rigpa Shedra East in Pharping, by following a weekly online course on the Bodhicharyavatara over a period of four months, directly held by the Shedra team from Nepal.
Dates :      from 16 January to 14 May 2016
Normal Fees  :        250 €
For more information please click here.