Upcoming Events
Summer 2013 Shedra West
Khenchen Pema Sherab will continue his teachings on Jikmé Lingpa's The Treasury of Precious Qualities in Lerab Ling from 18 to 28 September 2013.
For more information, click here.
Winter 2014 Shedra East
The Rigpa Shedra East 2014 will be hosted as usual by the Nyingma Palyul Retreat Centre in Pharping, Kathmandu Valley, Nepal from the 30th of December 2013 to the 20th of April 2014 (exact dates to be confirmed).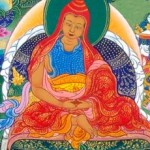 For the second time we will offer three levels of studies, with teachings on the Bodhicharyavatara,  the Madhyamakalankara and Longchenpa's Semnyi Ngalso (Finding Comfort and Ease in the Nature of Mind) [to be confirmed]. The programme will include Tibetan language courses on multiple levels.
For more information please click here.